functional Arminianism tagged posts
If your church is giving you grief, watch this….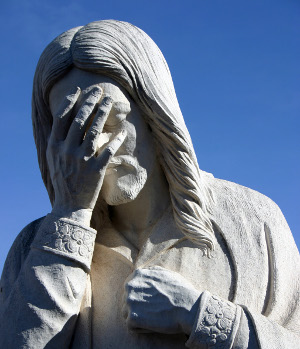 The Gospel is always trouble and causes RageQuit!
Failure mode is an engineering term, but it is the standard by which american 'churches' operates.
 Over at Dalrock, Cail Corishev makes the following observation:
"When did Christians start believing that God is a happiness vending machine, where you put the right behaviors in the slot and out pops the good life? Is my Bible the only one with the book of Job in it? If that book doesn't scream loud and clear that God owes you nothing and you can't expect to be rewarded in this life for living right, you really weren't paying attention."
SDG
Over at Social Matters, Nick B. Stevens has written: The Search for Religious Relevance (or How I Missed my First Anniversary)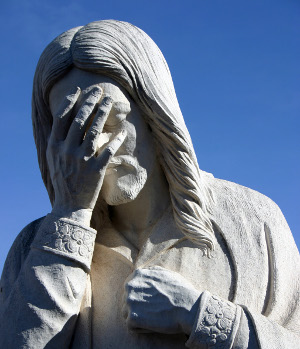 Now, all of this should be obvious to those who attend Lutheran Churches.  However, in recent conversations and in observing recent events, it would seem that it is not as obvious as it seems.
Except for the remnant, all would be lost.
SDG
Given what passes for Christian churches in these united States, it is not surprising that Christians In Name Only (CINO) get their religious entertainment fix each week are shocked to see the condition of the church in Palestine, Russia, north Africa, and etc.  Most but not all of these areas are where one find the church of Jesus Christ.  As Martin Luther wrote:
"The church is offensive to the wise and counted with criminals.  This is the lot of the church because this was the lot of Christ, the Head of the Church."
The results of this distance between the church of Jesus Christ and what passes for it here in these united States is of great magnitude.  But this also has a great impact upon the those within each.  In these united States the message is one of "power, wealth, peace, honor, wisdom, and righteousness."  CINO preachers cover the remnant with "slander, bitter hatred, persecution, and blasphemy."  This is license for the CINO to treat the remnant with "contempt and ingratitude."
Robert A. Kelly has pointed out that the fact that the CINO,
"…who carry out the persecution of and inflict suffering on Christ's people are the agents of the devil does not mean that they are obviously and outwardly wicked people.  Some are, but most are often the most outwardly pious, upright, and religious people.  They are full of holy zeal to protect God and morality from assault."
And so it is and so it will be.  But what about those who deliver Christ's words of "affliction, shame, persecution, death, etc."  Well, for the most part they are out of step with the new and the enlightened.  They are "the most despicable of men" and thus the source of the church's glory.
SDG
As advice to middle aged reactionaries, Dr. Bruce Charlton has written, 'Don't read: re-read. (You have already read what you need to know.)'
A recent experience put into mind Mr. Nock's memoirs.
I recently got news about a small village of which I had fond recollections. In years past, this village was the home of an elderly mendicant who had been trained in the highest arts of his rebellious Christian sect. He had taken his position and its responsibilities seriously. However, as time pasted and the dragon's breath of Gresham's Law took its toll on his rulers, he was pastured without pasturage. Thus, when we met his teeth were long in the mendicancy that was his burden.
While he lived in this village and took part in the villager's lives, he continued to ply his vocation, abet in a more degraded state. In his wisdom he knew the results of his kind of work were difficult to measure. But the villagers were kind, the conversation congenial and the weather mild. This is as it was when I found him.
As I sat at his feet, we would sharpen each other. He found great pleasure in tempering my steel. Our conversations would range over much territory and occasionally on the situation in the village. From him I learned that the villagers had some religious leanings. However, as he noted, it was indeterminate at best and down right bestial at worst.
He has sense gone on to better things and although I have much to say about this grand old man, it is the village that concerns me today. It seems that the entire village has been converted to Christianity. The news about the village was enthusiastically exclaimed by a villager with whom I am acquainted. As with Mr. Nock, a chill coursed through me at the proclamation.
Mr. Nock continues,
"If it meant one thing, it was such an enormous pretension that I could hardly imagine a person of any delicacy who knew its implications would dare to advance it. If it meant another, on would hardly know how seriously to take it… a better informed person might find that the statement pointed at something mostly meaningless or even largely stultifying."
Like Mr. Nock's character, my villager was serious enough. Again, following Mr. Nock, I thought the question whether a village is or is not religious is hard enough to answer; and given that things have degraded since Mr. Nock's time, the question of whether and entire village is or is not Christian is impossible to answer categorically; "the answer might mean anything or nothing."
Defining terms has never been high on the list of important qualities found among enthusiast. So, I not dwell on the embarrassing truth. Suffice it to say that the villagers feel good about themselves, they remain kind and congenial and everything continues as it was. Because they are a very prosperous and secure village, they have never considered what Jesus has said and St. Mark recorded at the end of his eighth chapter.
And when he had called the people unto him with his disciples also, he said unto them, Whosoever will come after me, let him deny himself, and take up his cross, and follow me. For whosoever will save his life shall lose it; but whosoever shall lose his life for my sake and the gospel's, the same shall save it. For what shall it profit a man, if he shall gain the whole world, and lose his own soul? Or what shall a man give in exchange for his soul? Whosoever therefore shall be ashamed of me and of my words in this adulterous and sinful generation; of him also shall the Son of man be ashamed, when he cometh in the glory of his Father with the holy angels.
It may be said that I am being too hard on these modern villagers. Perhaps that is true, but that complaint was lodged against my Master as well. Never the less, there it is. As Professor Daniel Deutschlander says about Jesus; "He asks and he insists on it: Deny yourself, and take up the cross and follow me. He asks and he insists on it: Be a Christian!"
That is all well and good. And yet, as Mr. Nock notes, if a person "took these matters as stated, and he faithfully followed out their prescriptions …in the first century and probably in the second, he would have passed muster as a Christian." He continues by writing, it "has been done and is being done; mainly, as is natural, in an inconspicuous way by inconspicuous persons…"
They are there as a substratum of right thinking and well doing, but as the Old Testament prophets found, they are difficult to find and impossible to know. Except that they are despised and persecuted since they have no substance in this world. They can not be found in villages where prosperity and security is the main. Suffer they must and suffer they will, until Judgment Day.
Yes, there are Christians in the world and they form the hidden church, the saving remnant. I am glad for it. The villagers in question have not yet arrived. I do wish them well.
SDG
This is a letter that many pastors need to write to their congregations as we slip down the slope……
Dear Brothers and Sisters in Christ;
As you all are aware there is currently a push by some progressive members of the congregation to replace the liturgy used in our Sunday services. It appears that there are two views of how this replacing of the liturgy should happen. One approach is that the liturgy be entirely replaced with what is called a 'contemporary praise and worship' service. The second approach is that we continue to have two services keeping the liturgy in the early service and changing the second service to this 'contemporary praise and worship' style. I would like to point out that there is, in fact, another way to approach the question of how our services are ordered.
Recalling that the Church[1] is the bride of Christ. The primary function for the Church is for God's people to worship Him. The fact that we can gather is a divine miracle. That is why in our Small Catechism we confess that it is the Holy Ghost that '… calls, gathers, enlightens, and sanctifies the whole Christian Church on earth, and keeps it with Jesus Christ in the one true faith…'[2]
I view the Church as God's garden. Through the life, death and resurrection of our Lord, God creates his garden, the Church. Through care and nurturing the Church began to bloom and blossom in worship. Over the ages this mutual nurturing of God and organic response of the Church has resulted in the liturgy we use today.
In His mercy and through baptism in Jesus, God plants you and me in the Church. In the Church, Jesus promises that each of us will receive the nurturing of God's holy Word and the Church responds in liturgy. Even as we worship, our bound wills seek to delude us into believing that we are pious, righteous and devout toward God. We turn our backs on God and begin to think that worship is our doing something for God.
With this pride, come our most precious religious, political, economic, and patriotic dreams. Myths we tell ourselves and one another; and to which we retreat so that we do not have to take care of our fellows and the good earth.[3] Once we are snared by these myths, we begin to see our personal wants, needs and desires as being the measure of all things. This leads us to think that praise and worship are things we do once a week in church for God.
This brings us to the day and the evil therein. There are three groups of stewards in the garden of the Church. In our congregation all three are present, that is not unusual. Each steward has a different idea of how to care for the garden and as such a dispute has arose as to which is the better steward.[4]
One group of stewards would like to have the liturgy be entirely replaced with what is called a 'contemporary praise and worship' service. They are the radical progressives. Radical in that they want to strike the root.[5] They would have the congregation tear out and burn out the existing garden, up root the young and the mature blooms and blossoms and start over with a fallow garden.
These radical progressives are not without seed for the fallow garden. They bring with them the seeds of 'what everyone else is doing,' 'what is popular,' and will 'make the church grow.' These seeds are 'new' in that they would introduce to our services songs that we hear on the radio, except with CINO[6] words in place of the original verses. They would bring in 'new' readings from the latest top sellers at the local CINO book store. They would replace the existing congregation with 'new' people from the un-churched and those that 'do not have a personal relationship with Jesus.'
A second group of progressives would continue to have two services keeping the liturgy in the early service and changing the second service to this 'contemporary praise and worship' style. These liberal progressives want to keep the liturgy for themselves, but are willing to give liberty to another group who wish to have a 'modern' service. They wish to only fallow part of the garden in order to experiment with the seeds of 'what everyone else is doing,' 'what is popular,' and will 'make the church grow.'
The liberal progressives do not have new seed for the garden. Rather they view the matter of worship as pure contingency. Through their view of Christian freedom, they are willing to let the radicals have a 'go at it' not realizing that the seeds of radicals will soon over grow the liberals part of the garden. They turn their backs on the other side and wish them good luck, only to be surprised with how the liturgy will change over time.
These 'new' seeds grow well in fallow ground and slowly expand to other parts of the garden until the entire garden has changed. The hymns will be replaced with 'cover songs.' The organ will grow dusty as guitars, tambourines, drums and other bar-band instruments become the standard. The symbols of the Church will be replaced with symbols of the people: butterflies and modern art wall hangings, blue jeans and flowered shirts, 'come to Jesus' expressions and Hallmark card sentimentality. The processionals will be replaced with 'liturgical dance' and children's performances.
The great travesty of this move is that eventually even the sacraments of the Church will be changed to reflect the progressive vision. The divine gifts of baptism and the Lord's Supper will become symbolic and reenactments of the life of Jesus. Baptism will be a 'cleaning up' of the people who have chosen to be better. The Lord's Supper will become a drive-trough with the bread served as you pass by the pastor and the wine, now grape juice, will be served in plastic 'Jesus jiggers.'
As you can tell by now, I count myself out of either of these two groups. However, before you discount me a some stick-in-the-mud old fogy, hear me out. As a fallen and sinful man, I recognize the need for the church to all ways be reforming. I stand by organic reformation rather than quick or slow revolution. Our existing fellowship hall has a stage for songs, 'praise band' music, a more relaxed setting for 'wall art' and 'dressing down;' and a perfect place for dancing and performing by young and old.
This is what we should do after services on Sunday morning. Enjoy each other and the gifts that God has given us. The 'pot-luck' meal where we share the life abundant with one another. Yes, we should let ourselves relax and bask in the glow of what our God has done for us each day, but especially on the Lord's day.
As for the liturgy, it is constantly reforming with ever the eyes toward keeping it God-centered and Christ-centered. All changes to the liturgy are slow, deliberate and ordered as to not introduce chaos into the church or congregation. Concerning the sacraments, it would be a violation of my vows to allow changes in our ancient practices. There are certainly new hymns to be considered, new prayers to be written and new ways of preaching and teaching the Law and Gospel.
So it is, that, the historic and mature liturgy that has flourished in the Church for two-thousand years, will continue to be the standard for our church and congregation. In recognition that this may not be what some want to hear and that some will decide to leave our congregation, I realize this to be real possibility. To those for whom this continuation is uncomfortable, I remain open for conversation. To those for whom this continuation is unacceptable, it is more Christian that we part company than to become bitter attempting to abide one another. I will continue to pray for you and wish you well, should you decided to leave.
Yours in Christ,
SDG
---
[1] The capitalization of the word Church indicates the mystical body of the Communion of the Saints, both the Church Triumphant and the Church Militant. The lower case word 'church' indicates the bricks and mortar building in which we gather. Additionally, I use the word 'congregation' to mean the people who gather in a 'church.'
[2] Triglot Concordia: The Symbolical Books of the Evangelical Lutheran Church: German-Latin-English. (St. Louis: Concordia Publishing House, 1921). SC.
[3] after Gerhard O. Forde. Where God Meets Man: Luther's Down-To-Earth Approach to the Gospel. (Minneapolis, Minnesota: Augsburg Publishing House, 1972). p. 107.
[4] after Luke 22:24.
[5] The etymology of the word radical from Latin radix (genitive radicis) meaning "root."
[6] Acronym for Christian In Name Only – CINO.
Choose one of the following theologies and explore how they are emphasized both in historic liturgical forms (i.e., the Mass and the Liturgy of the Hours) and in the German Lutheran Messe: theologia cruces, sola fide, the Real Presence of Christ.
My interest in this question stems from the fact that we have only one theology, that of the Cross.  Particulars such as sola fide and the Real Presence of Christ are part and parcel of the Theology of the Cross (theologia cruces).  Critical to this is that in his writings, specifically the Heidelberg Disputation, Martin Luther focuses three theses (19, 20 & 21) on defining who is and who is not a theologian.  Only later does Luther set forth the Cross as "our theology."  Thus, it is that theologia cruces defines the theologian, but also the praxis of our theology in liturgy forms.
The medieval Mass retained many elements of the theologia cruces, including the penitential Kyrie, the laudatory Gloria, the confessional Credo, the laudatory Sanctus and the penitential Agnus Dei.  Because these parts of the Mass remained focused on Christ's work and our creaturely position, Luther kept them in the Messe.  As such these should remain as part of any modern liturgical forms.
All liturgical forms should remain focused upon 'suffering and the Cross.'  Recently, two threats to the Lutheran liturgical form of proclamation have returned, these are the 'decadent pietism' identified by Forde and 'functional Arminianism' identified by Curtis.  These threats can be qualified as personal affirmation (of oneself and of others) and 'making a decision for Christ.'  Each are a danger to true worship and are a degradation of the liturgy.
As theologians of the Cross and responsible liturgists, we should be on guard against these threats as we consider what is included and excluded from our services.  Over the years older hymns (chorales) and modern hymns that focus on God and His Christ as the actors and we as the passive recipients of His actions can and should continue to be included.  Modern and camp meeting (gospel music?) songs should be view critically before inclusion as they tend to affirm us and reinforce our own idolatry.
We must continue to teach and preach that all of us should be very cautious of what is brought into our congregations.  Very few, if any, resources found at the local 'Christian' bookstore have been seriously vetted as meeting the standard of 'suffering and the Cross.'  All pastors and teachers should use the theological analysis that was discussed in class.  Although our class focus was on hymn analysis, these points seem to be a good starting point for what should or should not be included in the liturgy.  The points were: 1. Is the form about God's grace and thanksgiving?; 2. Does the form include works righteousness?; and 3. Is the Cross central in the form?
Additionally, one could add that the forms should be true and beautiful.  Ultimately, those historical and modern liturgical forms that give all might, majesty, dominion, power, and all the glory of our salvation to God alone, have and will stand the test of time.  No other forms are more important and far-reaching than standing firm in the theologia cruce.
SDG